Butler Farm Project
Wednesday, 21 April 2021
Background
The Butler Farm is a dairy farm located halfway between Koromatua and Ngahinepouri within the Waipa River catchment. The farm adjoins a section of the Tuhikaramea Stream with a significant inflow for the stream running through the middle of the farm. The Tuhikaramea Stream and sub-catchment occupy about 10 hectares of the Butler Farm, of which 5 hectares has had weeding and planting undertaken by Peter and Helen Butler, leaving 5 hectares available for restoration improvement. The dam was also repaired, creating a 3.5 hectare wetland project and obstacle for pest plant invasion up the catchment.
The primary outcomes for the project are to:
reduce weed density and pest plant spread by filling available habitat with native plants and establishing a continuous canopy from the paddock edge to the mean high water for the Tuhikaramea Stream.
establish riparian planting around the re-established 3.5ha wetland to provide habitat values for wildlife, and supports the previous planting efforts completed by the Butlers.
In 2019, the Butler's Farm received excellent exposure when it was one of three Waikato farms chosen by Fonterra to promote its 'Open Gates' initiative to the general public. Several hundred people braved showers and variable weather conditions to visit the farm and learn about dairy farming and the work farmers are doing to protect the environment.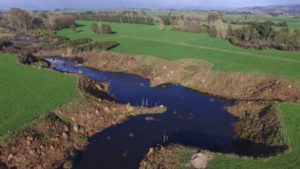 Aerial view of the Butler Farm
The Project
Waikato RiverCare started restoration work on the Butler Farm project in 2018.
WCEET was the initial supporter of this project and provided funding for the first two years for pre-planting weed control actions and the purchase and planting (in 2019) of 7,235 plants along the Tuhikaramea Stream and wetland.
The riparian planting consisted of Kahikatea, Kanuka, Manuka, Makomako, Kamahi, Rewarewa, Putaputaweta, Karau, Cabbage tree, Harakeke and Ribbonwood.  Infill planting is planned for 2022 to fill in any gaps.
Waikato RiverCare works closely with Waikato Regional Council staff and contractors on containment and control measures for yellow flag iris in the Tuhikaramea Stream catchment. So far, actions undertaken on this project have prevented yellow flag iris establishing within the constructed wetland and there has been a significant reduction on land adjoining the Butler Farm.
The Waikato River Authority now funds the project costs until 2022 for post-planting weed control.
In 2020, the project was able to be extended after RiverCare secured additional funding from the natural heritage fund from Waipa District Council to add an extra 1 hectare to the riparian planting zone. Trees That Count have just confirmed that they will provide 2,000 plants to this extension, which will be planted in 2021.
This project is a great example of collaboration between a number of organisations working together to improve catchments surrounding the Waikato river, through riparian planting.