WCEET Annual Fieldtrip
Monday, 20 June 2011
The Trustees met in Turangi on the 9th June and used the opportunity to visit some of the projects WCEET has supported in the south Lake Taupo area.
In 2010 Te Kawakawa Ahu Whenua Trust fenced off two wetlands on its farm on the northern slopes of Mt Pihanga.  The water from one of these wetlands feeds the main stream through the National Trout Centre.  Nicki Hughes from the Waikato Regional Council and John Haywood the lessee of the property took the Trustees through and outlined the progress and goals for the project.  The Trustees were impressed by the large areas protected, particularly one so close to SH1.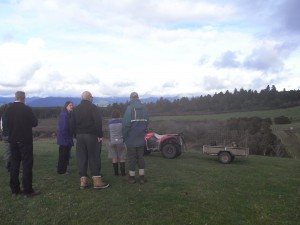 The Trustees then travelled to the National Trout centre to inspect the fish ramp on the Waihukahuka Stream that WCEET supported in 2007.  The Trustees were also guided through the new visitor centre and were impressed by the native fish aquarium, worth a visit if you are ever passing by.
Finally the Trustees visited the settlement of Pukawa where a locally run predator trapping programme has been underway for over 12 years.  Local resident Jean Stanley discussed the project and some of the daily problems she encounters.  Pukawa is a very inspirational local community and the amazing birdlife is a testament to the dedication of these local personalities.
It was a successful afternoon and demonstrated to the Trustees the commitment these small groups have to running successful projects.  WCEET is pleased to assist these groups in achieving their goals.